Research topics
Since the opening of the lab back in 2006, MEG research in Cardiff has focused on the origin and role of cortical oscillatory signals, with particular emphasis on gamma oscillations in the visual system. Typically, we study oscillations with simple, well-established sensory-motor tasks, in the context of both normal and pathological brain function.
Two key aspects of our approach to human neuroscience are the incorporation of animal models in the generation of our experimental hypotheses and the study of the relationship between MEG and fMRI signals. We adopt systematic pharmacological manipulations as a tool to probe the neurophysiological mechanisms generating frequency-specific oscillations in the sensory-motor system.
Importantly, understanding the origin of these electrophysiological signals bears the potential for both the development of markers of disease and for the advancement of drug discovery. In this perspective, our research efforts extend to the analysis of neuronal signals at the network level. This ranges from the fine-grained models of neuronal function in cortical microcircuits, implemented with dynamic causal modelling (DCM), to the analysis of oscillatory signals originating from distant cortical regions at the whole-brain level, using both functional and effective connectivity analysis methods.
Research facilities and equipment
The MEG lab at Cardiff University is equipped with a 275 channel CTF axial gradiometer system. The MEG is located in a large magnetically shielded room (5×4 m), which is particularly well-suited to clinical and pharmacological studies. Vision studies are performed using a state-of-the-art PROPixx projection system (VPixx) and an EyeLink 1000 Plus eye-tracker (SR Research).
A description of the MEG lab setup is available at the following link: http://sites.cardiff.ac.uk/cubric/facilities/meg.
Location
The MEG laboratory at Cardiff University is part of the new CUBRIC Building, which opened in March 2016. More information about CUBRIC is available at the following link: http://sites.cardiff.ac.uk/cubric/.
People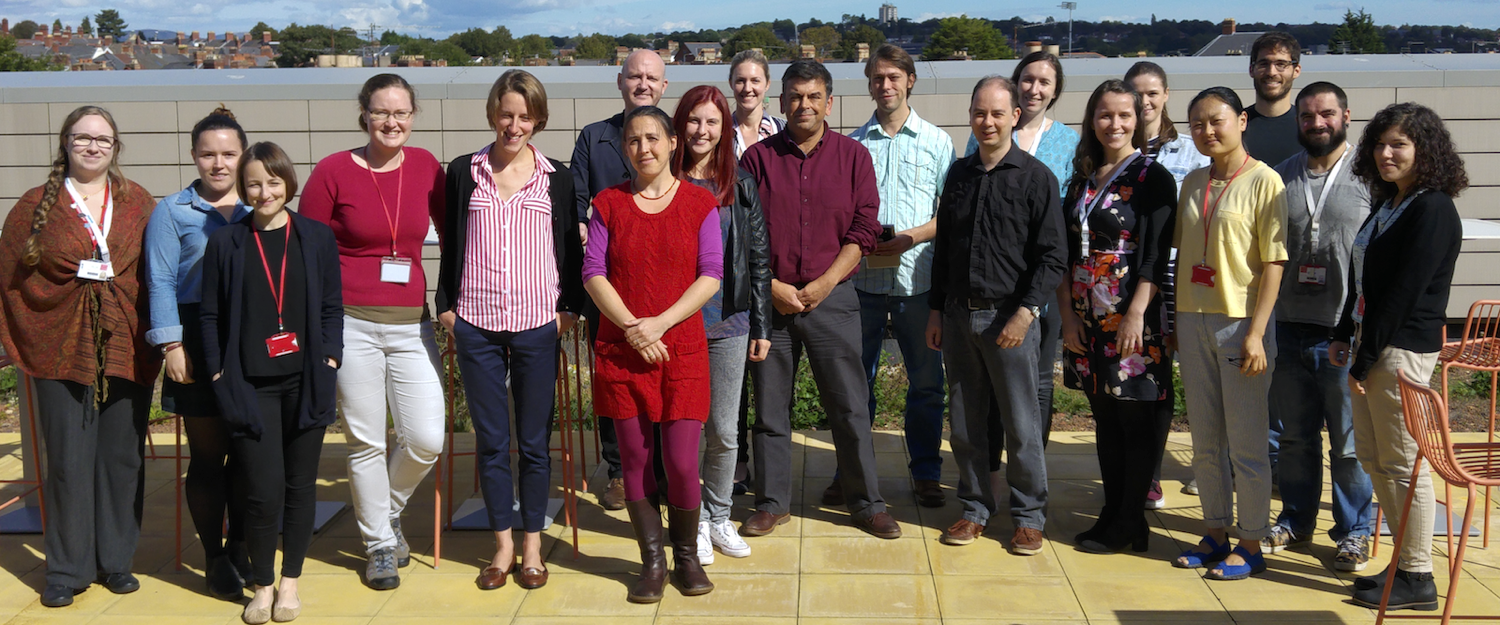 Head
Prof Krish Singh
Head of Human Electrophysiology
Academic Investigators
Prof Derek Jones
CUBRIC Director
Prof Richard Wise
Head of Magnetic Resonance Imaging
Prof. James Walters
Professor
Dr Khalid Hamandi
Consultant Neurologist
Dr Neeraj Saxena
Clinical Senior Lecturer
Dr James Walters
Clinical Senior Lecturer
Dr Jiaxiang Zhang
Senior Lecturer
Dr David McGonigle
Lecturer
Dr Aline Bompas
Lecturer
Dr Christoph Teufel
Lecturer
Core Staff
Dr Gavin Perry
MEG Lab Manager
Sonya Foley
Scientific Support Officer
Bruces Barnes
Scientific Support Officer
Paul Raikes
Senior Technician
Clinical Fellows
Daniela Brazzo
Clinical Research Fellow
Joanne Doherty
Clinical Research Fellow/PhD student
Elin Roberts
Clinical Research Fellow
Post-Doctoral Researchers
Dr Christopher Allen
Research Fellow
Dr Diana Dima
Research Fellow
Dr Stavros Dimitriadis
Research Fellow
Dr Johanne Doherty
Clinical Fellow / PhD Student
Dr Mark Drakesmith
Research Associate
Zahra Moradi
Research Fellow
Dr Holly Rossiter
Research Fellow
Dr Alexander Shaw
Research Fellow
PhD Students & Research Assistants
Phoebe Asquith
PhD Student
Laura Bloomfield
PhD Student
Sophie Esterer
PhD Student
Megan Godfrey
PhD Student
Dominik Krzeminski
PhD Student
Marlou Perquin
PhD Student
Marie-Lucie Read
PhD Student
Maciej Szul
PhD Student
Hellen Jing Yuan
PhD Student
Emily Lambe
Research Assistant