Research topics
Aston University has been at the forefront of MEG research in the UK for 3 decades. Since the initial installation of a single channel MEG system in 1988, and then a 19 channel system (1992), we were the first site in the UK to install a whole-head MEG scanner (2000, upgraded in 2005). We now host the first MEG system in Europe optimised for use with children. The Wellcome Trust Laboratory for MEG Studies is part of the Aston Brain Centre (ABC), an integrated research environment that opened in 2010, which brings together a unique suite of equipment and facilities for related areas of brain research.
MEG research at Aston focuses on understanding the oscillatory dynamics of child development through to older populations and translating knowledge of this fundamental research to diagnosis, therapy and treatment.
We primarily use beamformer analysis for source localisation and investigate this activity at the network level within the brain using functional connectivity methods. In particular, we are interested in using these methods to further our understanding of children's neural development, and how it differs in disorders such as epilepsy, dyslexia, autism and attention deficit hyperactivity disorder (ADHD). Our other research interests also include cognitive and social neuroscience, ageing and systems neurophysiology and investigating pathologies such as mild traumatic brain injury (mTBI), obsessive compulsive disorder (OCD) and chronic pain.
Our clinical MEG team have a pre-eminent position in the field of pre-surgical evaluation for epilepsy at paediatric age, providing innovative diagnostic services currently unavailable within the NHS.
Research facilities and equipment
The Wellcome Trust Laboratory for MEG Studies in the Aston Brain Centre (ABC) at Aston University is equipped with a 306 Elekta Neuromag® TRIUX MEG system, comprising 102 magnetometers and 204 planar gradiometers and with an Internal Helium recycler (IHR). The MEG system is located in a single-shell magnetically shielded room equipped with MaxShieldTM technology. Visual information are displayed via a 3-Chip DLP™ Panasonic Projector and participant responses recorded through a fibre-optic response set (FIU-932, Current Designs). Presentation of stimuli is supported via Presentation® (Neurobehavioural Systems), EPrime® (Psychology Software Tools) or Psychophysics Toolbox. Multi-modal studies are supported through our MRI Research Unit (Siemens 3 Tesla Trio Magnetom MRI scanner), Brain stimulation lab (Magstim TMS), Dense Array EEG Lab (EGI), Dyslexia and Development Assessment Unit and ALIVE (Aston Laboratory for Immersive Virtual Environments).
Location
The Wellcome Trust Laboratory for MEG Studies at Aston University is part of the Aston Brain Centre (ABC), an integrated research environment for the study of neurodevelopment in health and disease.
More Information about the ABC can be found at http://www.aston.ac.uk/lhs/research/centres-facilities/brain-centre/.
https://mappedsites.cardiff.ac.uk/mappingmindfulness/summary/
People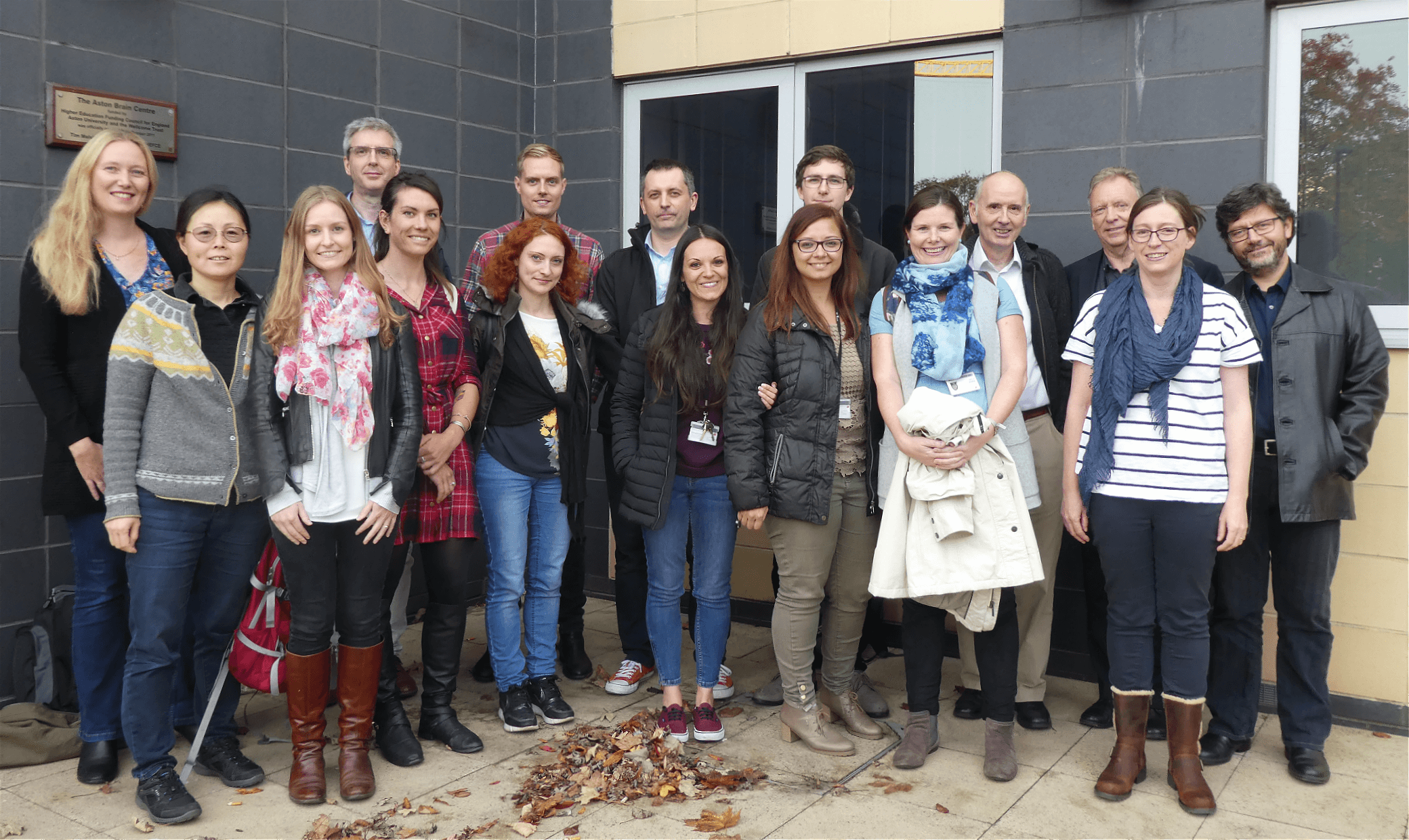 Directors
Prof Amanda Wood
Director, Aston Brain Centre
Prof Stefano Seri
Medical Director, Aston Brain Centre
Professor of Clinical Neurophysiology and Developmental Neuropsychiatry
Dr Caroline Witton
Director, Wellcome Trust Laboratory for MEG Studies
Prof Joel Talcott
Director, DDAU
Professor of Developmental Cognitive Neuroscience
Principle Academic Investigators / Steering Group members
Prof Adrian Burgess
Principal Scientist, Dense Array EEG Lab
Professor of Psychology
Prof Paul Furlong
Professor of Clinical Neuroimaging
Prof Klaus Kessler
Principal Scientist, Brain Stimulation Lab
Co-Investigator, ALIVE
Professor of Cognitive Neuroscience
Prof Ian Stanford
Professor of Neuroscience
Prof Gavin Woodhall
Principal Scientist, Human Brain Tissue Lab
Professor of Neuropharmacology
Core and Technical Staff
Dr Siân Worthen
Manager, Wellcome Trust Laboratory for MEG Studies
Research and Training Fellow
Dr Elaine Foley
Clinical Research Fellow
Dr Hongfang Wang
Research Fellow
Niteen Mulji
ABC / Psychology Technician
Andrea Scott
Clinical Neurophysiology Technician
Post-Doctoral Researchers, Fellows & PhD Students
Nicolas Alexander
PhD Student
Diandra Brkic
Marie Curie ECR
Eleanor Callaghan
PhD Student
Gerard Gooding-Williams
Research Assistant / PhD Student
Thomas Graeme-Drury
PhD Student
Michael Hall
Teaching Fellow / PhD Student
Ainara Jauregi
PhD Student
Kelly Murphy
PhD Student
Gloria Romagnoli
Marie Curie ECR
Ewelina Rosiecka
PhD Student
Victoria Schroeder
PhD Student